Yard Management Software
Manage your trailer yard efficiently
Gatego lets you take control and have complete visibility of trailers at a yard in an easy-to-use platform.
* No credit card required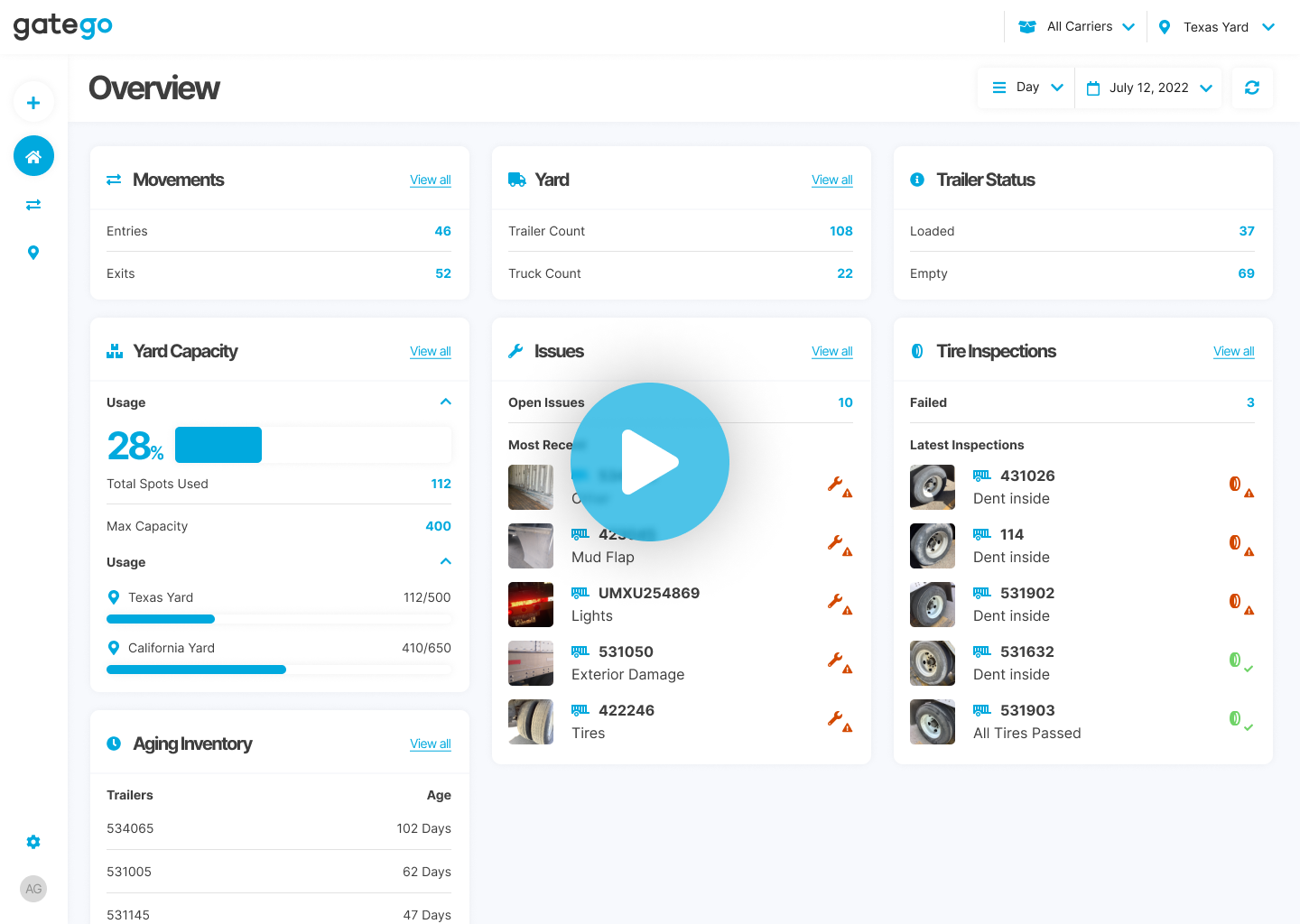 Immediate visibility when you need it most
Shippers, drivers, and service providers are all depending on your ability to provide accurate and timely information. Empower your team to provide the service your brand deserves.
Check out our top features
Gatego is feature-packed with everything you need. Control every aspect of your yard from a single, easy-to-use dashboard.
An All-in-one platform to power your yard
Gatego allows you to log every movement in and out of your yard, never lose track of your trailer performance.
Real-time, hassle-free log of yard movements.
Detailed movements with pictures, trailer status, attachments and more.
Real-time inventory across multiple yards & multiple carriers
One subscription, infinite scalability.
View historical data quickly, no need to look through your archives.
Give access to the carriers using your yard.
Access the data from all your yards in a unified dashboard.
Features tailored to fleet owners
Easily add tire inspections to stay compliant, and keep your fleet maintained with our issue reporting.
Issue and maintenance tracking to keep your fleet dependable.
Keep your fleet safe from DOT violations with tire inspections.
Share movements with others
Need to send a movement quickly? With unique shared links, you can share your movement to keep external users in the know with up-to-date information. No login credentials are required.
How Gatego works
Take a look at Gatego in action to see what it can do for your business.
Always improving, continuously innovating
We work hard to make gatego the best platform to power your yard, with innovative features that disrupt the industry standard. Here are some examples.
Smart Autofill
Our intelligent autofill system makes checking in faster than paper.
ID Scanning
Our AI ID Scanning speeds up check-ins reducing frustrating lines.
AES 128
We use AES 128 military-grade encryption to keep your data safe.
Cloud-Based
All your data is always up to date and can run on any modern device.
Open APIs
Need a custom integration? Our API allows you to extend gatego.
Live Chat
We are always available to help you. Don't believe us? Send us a message!
Ready to get started?
Join the innovative yards using Gatego
Gatego lets you take control and have complete visibility of trailers at a yard in an easy-to-use platform.